The story of Tasneem, a 13 year old Syrian refugee currently in Lebanon, is now published on AJE, click here.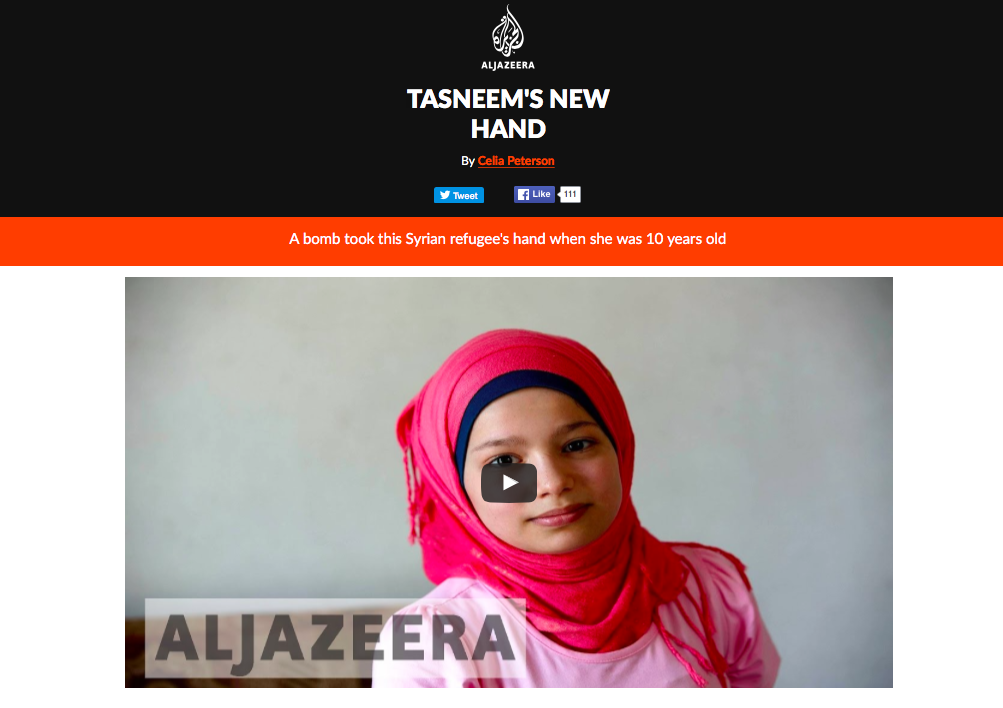 The explosions came without warning. Walls caved in. Windows blew out. The last thing Tasneem Yakty remembers about her home in Aleppo is that she and her family were in the room that had a balcony. "We didn't get hurt," she says, before quickly adding: "I lost my hand". She was 10 years old.
Her family fled Syria and are now living in the village of Kharayeb, outside the Lebanese city of Tyre.
Tasneem had lost her left hand. The trouble is, she is left-handed. Her family and a school teacher helped her learn to use her right hand for basic tasks – helping her mother in the kitchen, cleaning up around the house and caring for her younger siblings. But other routine tasks need a second hand. Her mother has to help her fix her veil and carry heavier items.
A year after arriving in Lebanon, Tasneem became part of a pilot robot hand project run by South Africa's Direct Aid International and the local Palestine Children's Relief Fund. Here she met orthodontist Vincent Joseph Chakhtoura, who took 3D pictures of her wrist and helped model a custom-made hand.
At the fitting, the first few moments were awkward. The plastic, the Velcro, the thumb that jutted out, it all seemed a bit much.
Tasneem would have to flex her wrist to move her new, long white fingers. After a year of not having a right hand, how long does it take to learn how to have one again?
"What's the first thing you'll do with your hand?" someone asks. Tasneem's face lights up. "Maybe I'll make a salad. Or brush my hair."
Back to News